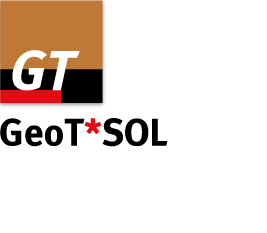 The calculation and simulation software for heat pump systems
GeoT*SOL is a dynamic simulation program for professional planning, calculation and design of geothermal solar systems.
Are you looking for a user-friendly special tool for the planning and design of heat pump systems? Then our GeoT*SOL program is the perfect project partner for your design work.
You can choose between different heat sources (soil, air and groundwater) and modes of operation (monovalent, monoenergetic and bivalent) for your location. The integration of solar thermal systems and bivalent systems with fossil heat generators should be emphasized. Requirements, losses and consumption are determined as a result of a dynamic minute simulation. Based on this, electricity consumption, seasonal heat performance factor and costs are calculated taking into account off-periods and tariffs. With these parameters, GeoT*SOL evaluates the economic efficiency of the system. The heat price and return are shown for the heat pump system and a comparison system.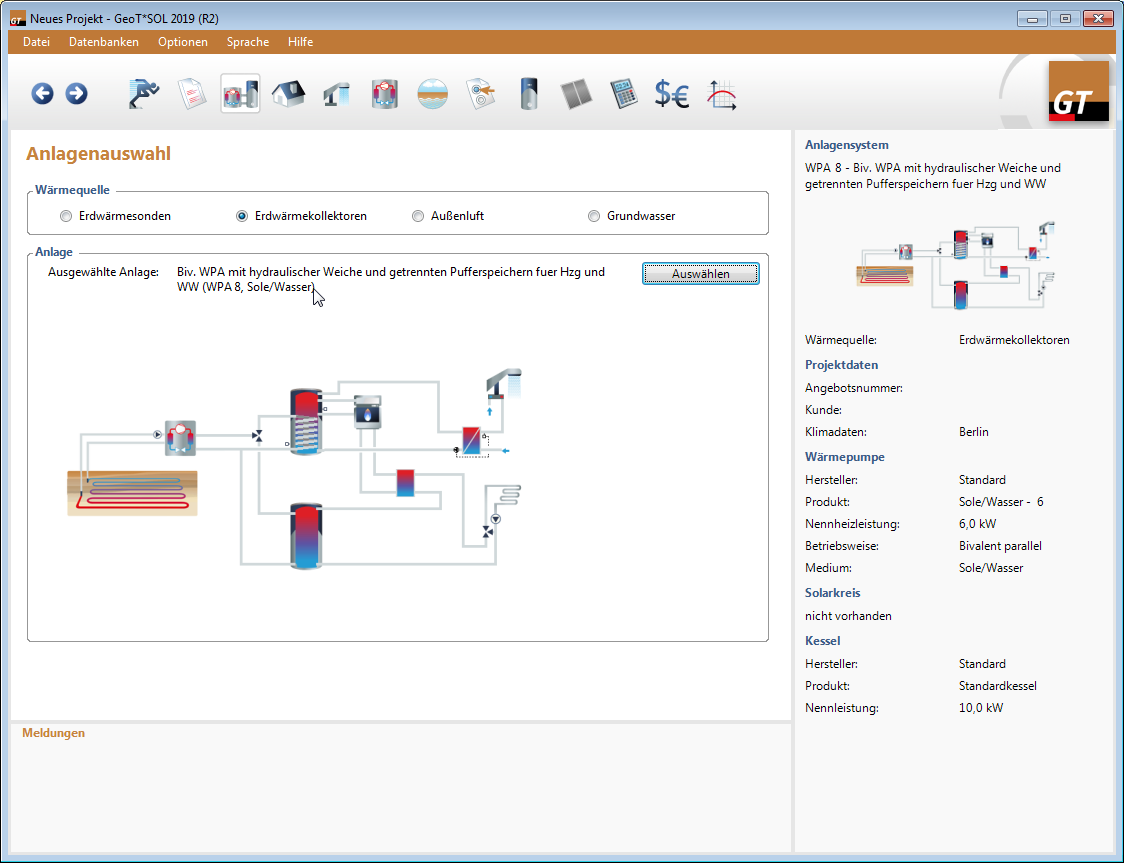 Simulation of the contribution margin of the heat pump and other heat generators
With GeoT*SOL you can simulate the heat pump system to the minute in order to determine annual performance figures (COP) and contribution margins. The systems can have other heat generators such as gas condensing boilers and solar systems. Movovalent, monoenergetic and bivalent modes of operation can be selected for operation.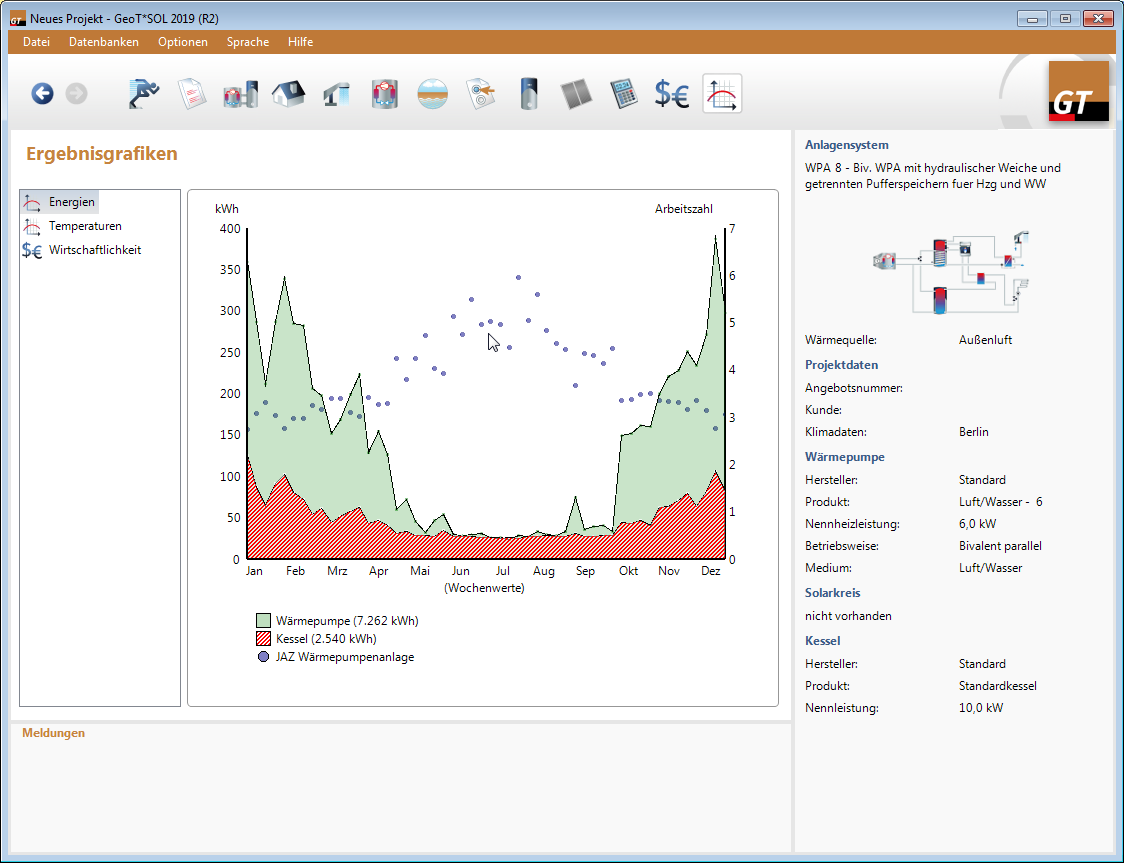 Determination of the annual performance factor according to VDI 4650
The annual performance factor according to VDI 4650 is an important factor for comparing plants according to their efficiency. It forms the basis for many funding measures and approval procedures.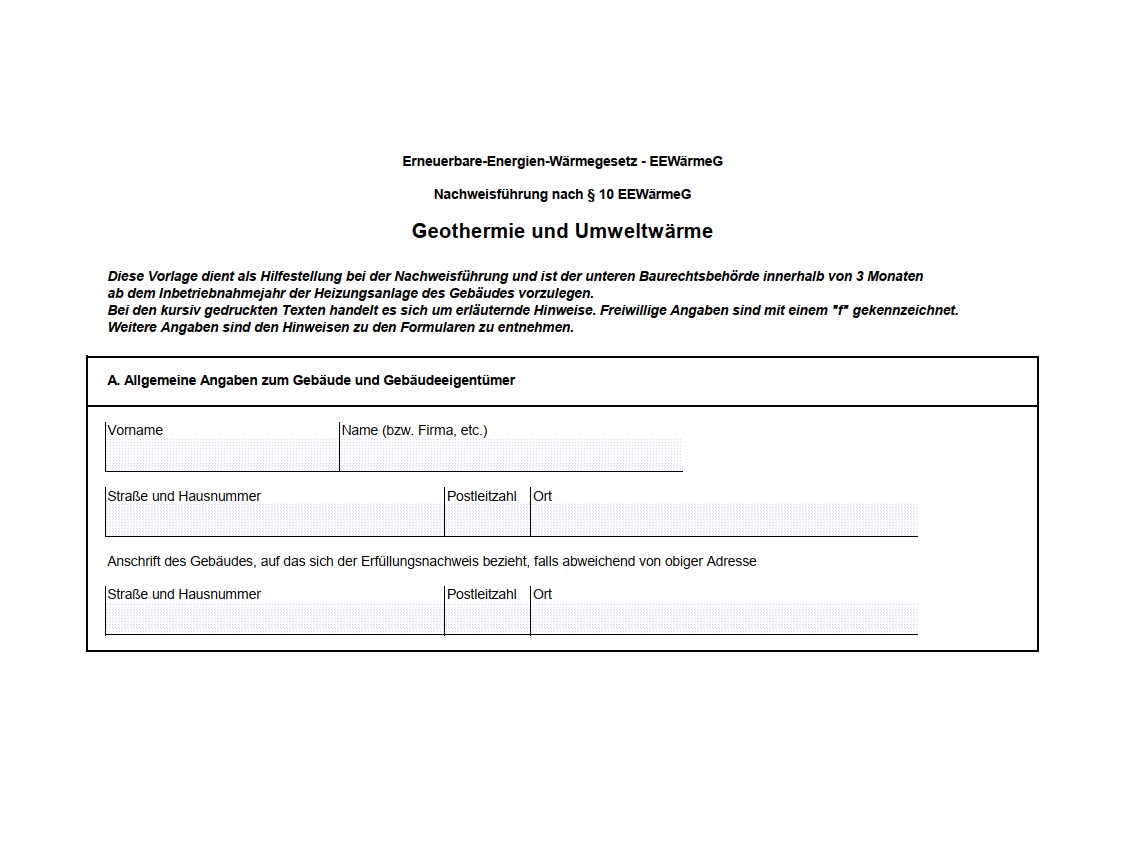 Evidence for EEWärmeG, EWärmeG and BAFA grants
GeoT*SOL determines the degree of fulfillment when using geothermal and solar thermal energy according to the law for the promotion of renewable energies in the heating sector for new buildings, as well as the renewable heat law for existing buildings in Baden-Württemberg.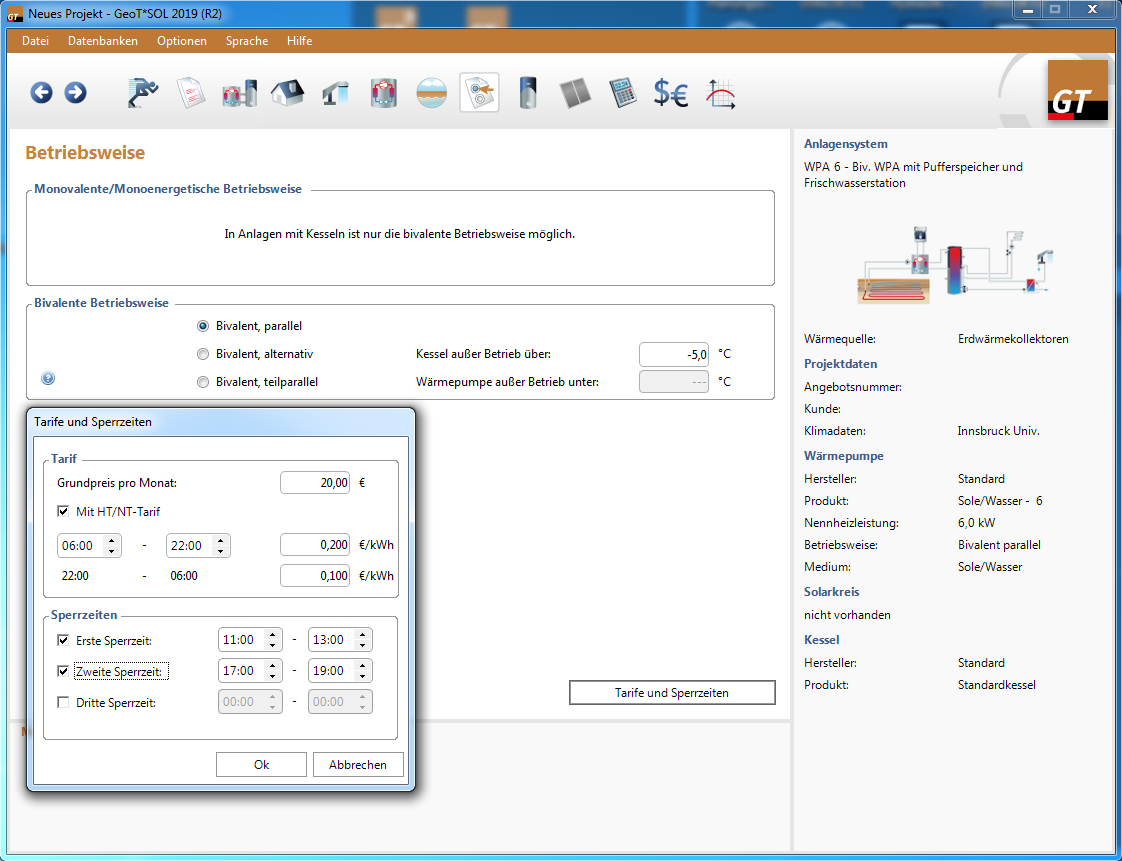 Tariffs and blocking periods
Up to three blocking times can be set using the usual rules (intervals and limited duration) in order to be able to precisely depict the supply situation. Furthermore, the electricity price for the heat pump can be divided into high tariff (HT) and low tariff (NT).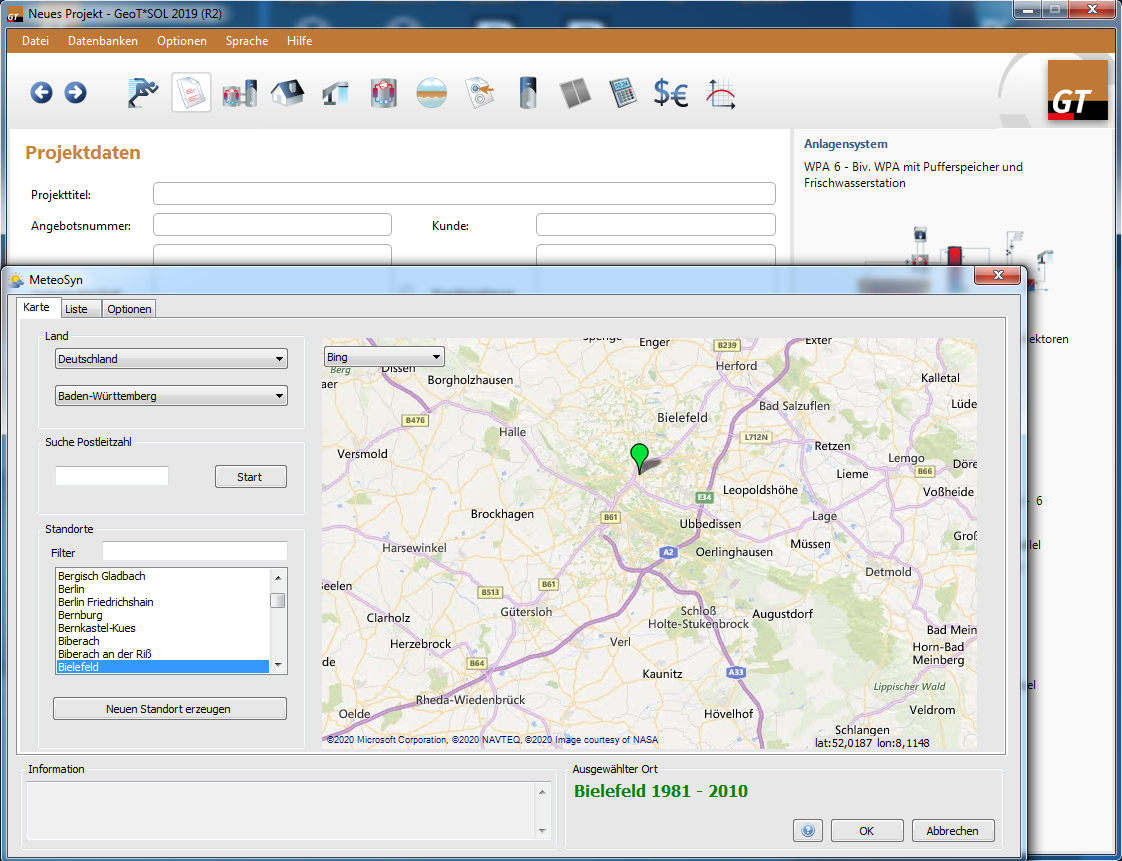 Climate data with 8,000 locations worldwide
The integrated tool MeteoSyn offers climate data records from approx. 8,000 weather stations worldwide; new climate data from the DWD for Germany with the averaging period 1981-2010; generate new climate data sets based on your own monthly mean values; interpolate climate data for many more custom locations.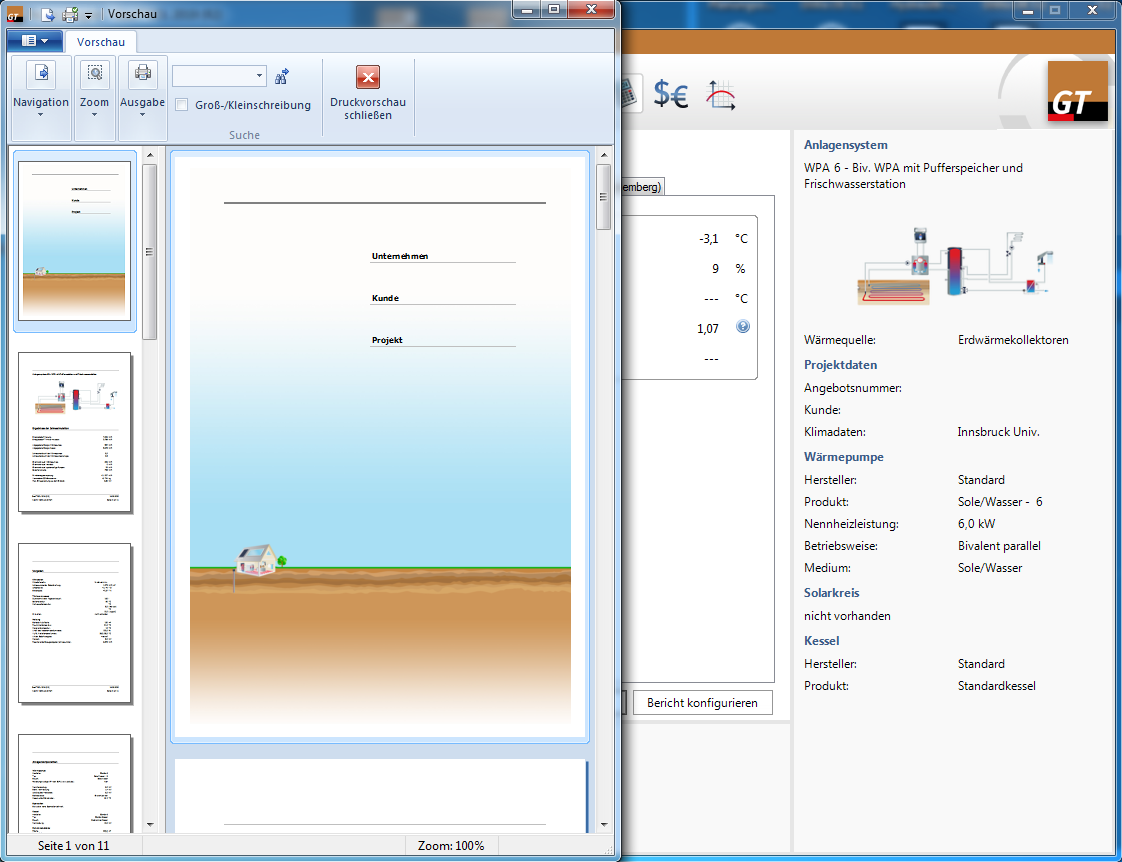 Configurable project report
The content can range from a short report with the annual performance figures to a detailed project report with diagrams and system components.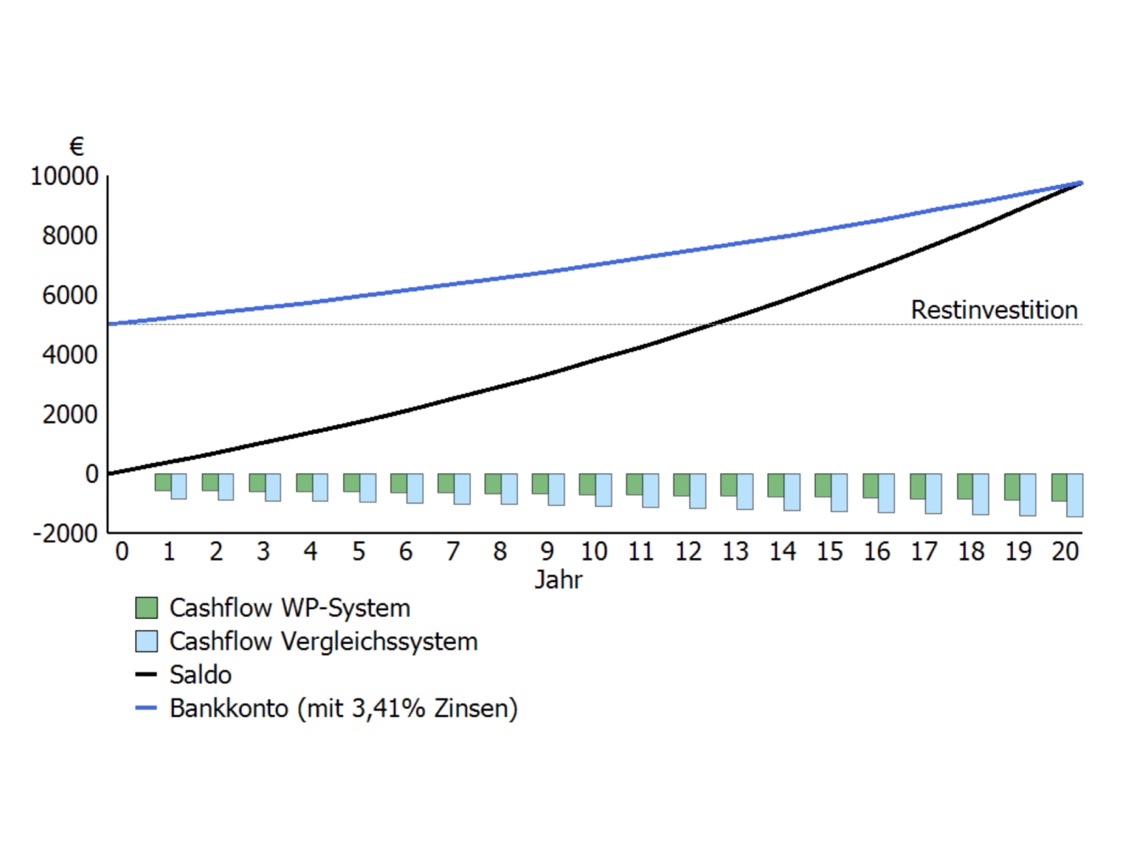 Profitability analysis
GeoT*SOL calculates the profitability according to the recommendation of the Federal Association of the Solar Industry (BSW) taking into account the funding: comparison of the costs of the heat pump system with a comparison system; capital value and production costs (heat price); modified internal rate of return (MIRR), profit taking into account the reinvestment.
Design heat pump systems and plan professionally
Designing custom heat pump systems is a complicated task that requires solar engineers to consider a variety of factors, including size and control of the system and the dimensioning of hot water tanks. GeoT*SOL helps you with this and can concentrate on the development of efficient and economical heat pump systems. All this is done through a practical and user-friendly interface.

Precise forecasts
Make better decisions based on intelligent simulation models of your heat pump system.

Detailed project reports
Help customers and partners understand the special features of their heat pump system with appealing professional reports.

Profitability calculation
Compare your system with a conventional system to determine the savings.
Contact
If you have any questions or need advice, call us on +49 (0) 30 588 439 0 or write an e-mail to sales@valentin-software.com.
We are happy to help you.
GeoT*SOL Single user license
Dynamic simulation program for planning and designing heat pump systems; incl. 6 months of software maintenance.
If you are interested in permanent maintenance, you can find out more at Software maintenance.
595,00 EUR
plus VAT.
GeoT*SOL Software maintenance
Software maintenance covers all software and database updates, as well as telephone support for the duration of the maintenance. It is valid for one contract year after the initial 6 months of free maintenance (when purchasing the software).
Further information is available in our online shop or here.
107,10 EUR
plus VAT.
System requirements and releases
System requirements
GeoT*SOL 2020
Internet access
Operating systems: Windows 8.1, Windows 10
Free hard disk space: 400 MB
Microsoft .Net Framework 4.7.2 Redistributable Package (will be installed automatically)
Release notes
March 27th 2020GeoT*SOL 2020 Release 1
The following new features and changes are included:
Calculation of heat pump performance factor updated due to new calculation guidelines (VDI guideline 4650, sheet 1, March 2019).
New bivalent heat pump system (HPS 8) with hydraulic switch and separate buffer tanks for space heating and domestic hot water.
Updated database with over 3,900 heat pumps (as of January 2020).
The following bugs have been fixed:
Incorrect simulation results when simulating systems with geothermal collectors.
October 1st 2019GeoT*SOL 2019 Release 2
The following new features and changes are included:
Updated database with over 3,700 heat pumps (as of September 2019).
The following bugs have been fixed:
The boiler power in bivalent systems was not correctly transfered to the simulation. As a result, the simulation was sometimes carried out with a shortfall of power, so that systems with large boilers in relation to the heat pump could have insufficient cover.
With air/water heat pumps the calculation of the seasonal performance factor according to the German VDI 4650 was not correct: a wrong test point was used (A10/W35 instead of A7/W35).
May 2nd 2019GeoT*SOL 2019 Release 1
The following new features and changes are included:
Simulation of bivalent heat pump systems:

5 new bivalent systems with boilers, some with solar thermal systems.
New modes of operation for bivalent systems (alternative, parallel, partially parallel).
Extensive database for selection of boilers.

Extended financial analysis:

Input of allowances for heat pumps and solar thermal systems.
The boiler will be taken into account for bivalent systems.

Updated database with over 3,700 heat pumps.
Contact
If you have further questions about our software products or need assistance with the application, we are happy to help. This is how you can contact our support and sales team: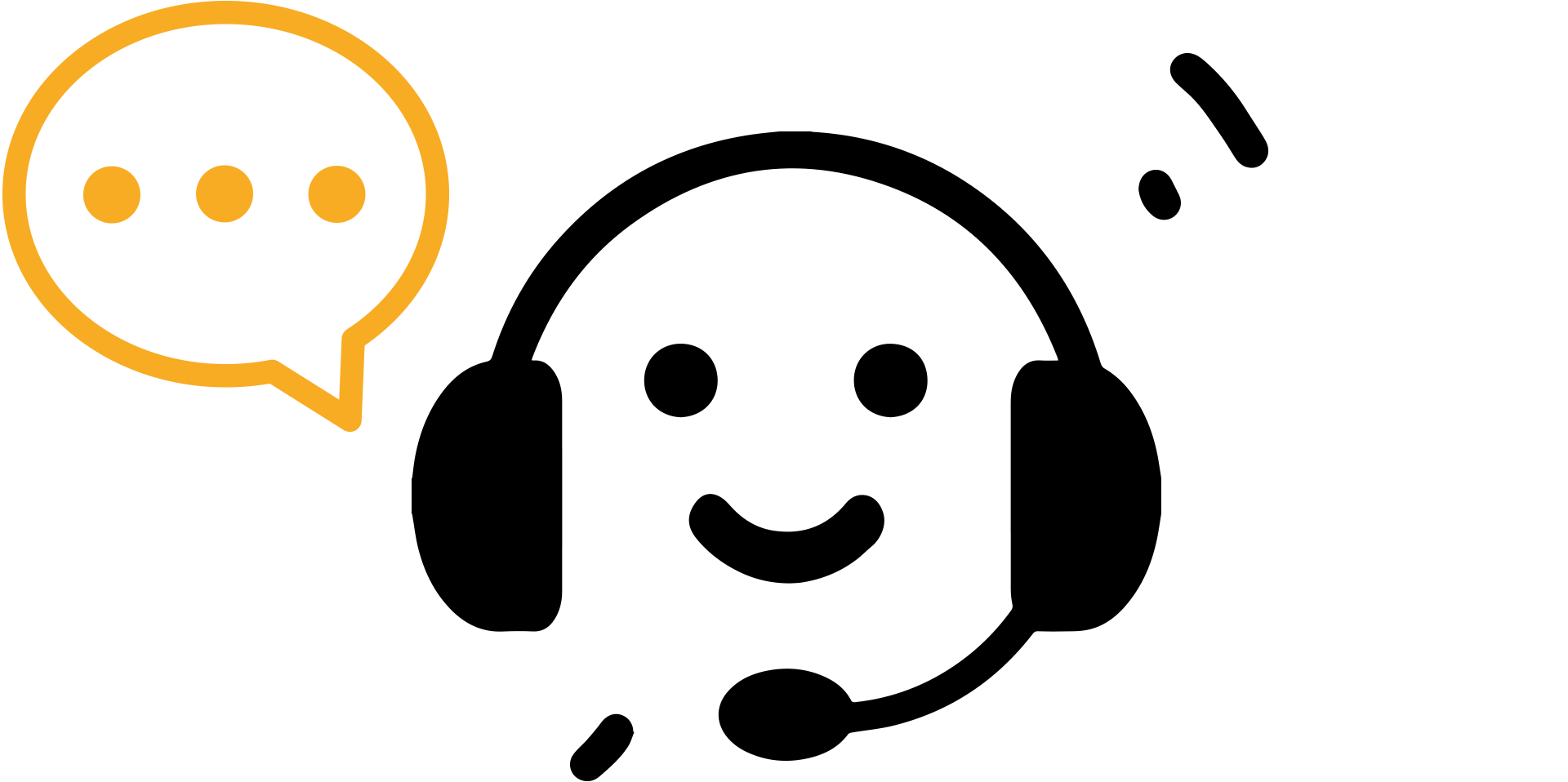 Sales
If you would like to buy one of our products or would like advice before purchasing, or if you have any questions about the ordering process, your offer or your invoice, please contact our sales team:
E-mail: sales@valentin-software.com
Telephone: +49 (0)30 588 439 0
Office hours:
Mon - Fri, 9 - 16 hrs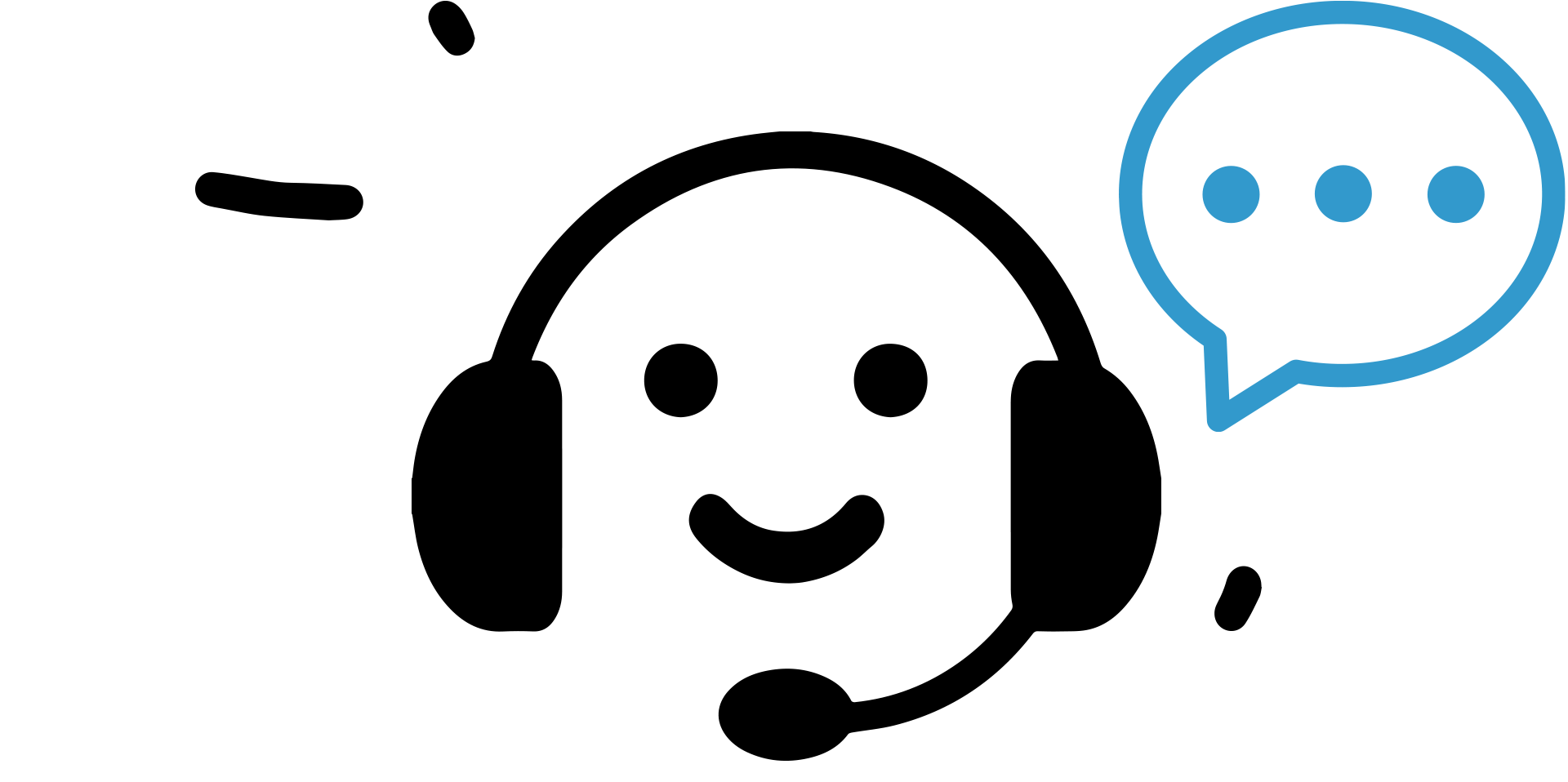 Technical support
If you have installation or registration problems, project-related inquiries or questions about our online databases, please contact our technical support:
E-mail: hotline@valentin-software.com
Telephone (for software maintenance customers): +49 (0)30 588 439 0
Office hours:
Mon - Thu, 9 - 12 hrs and 13 - 15 hrs,
Fri, 9 - 12 hrs
Forum:
Visit our Forum